The clear teeth aligners offered at your Kanata dentist
What is Invisalign Orthodontics®?
Metal braces were once the only treatment option used to straighten teeth in teens and adults. Today, Invisalign® clear braces are the preferred choice to correct misaligned teeth. Invisalign® is a new form of orthodontics offered at Hazeldean Family Dental Centre in Kanata. Instead of using wires attached to your teeth, your teeth can be straightened invisibly with groundbreaking orthodontic aligners.
Invisalign® aligners are clear
Invisalign® is removable
Invisalign® allows you to brush and floss normally
Invisalign® results are amazing!
Common problems that Invisalign addresses:
Crowding
Spacing
Crossbites
Overbites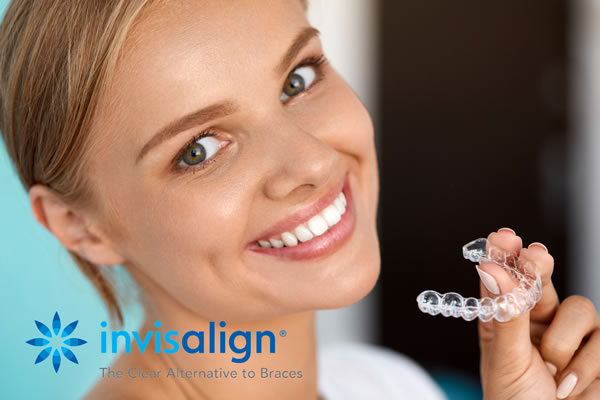 The Invisalign® Process For Straight, Beautiful Teeth
At your first visit, our experienced Kanata dentist maps out a treatment plan with your goals in mind. Impressions and pictures of your teeth will be digitized in order to work with a computerized 3-D image of your teeth. At Hazeldean Family Dental Centre, our Kanata dentist develops a precise treatment plan from which customized aligners are created using Invisalign® technology. You will wear these personalized aligners at each stage of your treatment.
Each set of aligners is worn for about 2-3 weeks, removing them only to eat, drink, brush, and floss.
As you replace each aligner with the next in the series, your teeth will move – little by little, week by week – until they have straightened to the final position our Kanata dentist has prescribed.
You will visit our Kanata dental office approximately once every 6 weeks to ensure that your treatment is progressing as planned.
Total treatment time averages 12 to 16 months with the average number of aligners worn during treatment between 20 and 30. The treatment length will vary from case to case.